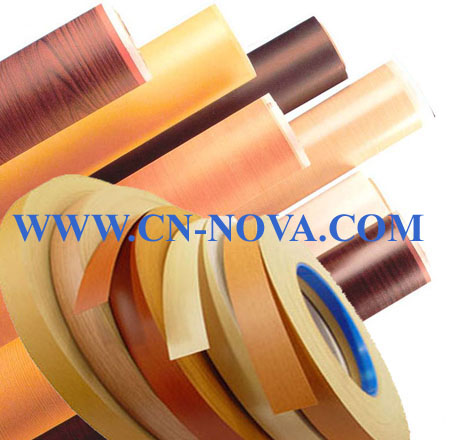 Melamine Edge Banding
Both Unglued and Preglued avaible to offer as per customer request.
CHARACTERISTICS AND APPLICATIONS :
NOVA melamine edge is a high-quality, thermosetting edge band based on refined cellulose and synthetic resins. It can be used universally for covering the edges of numerous carrier materials, mainly chipboards and MDF.
PHYSICAL PROPERTIES :
Thickness :0.30mm ¨C 0.35mm
Width: 12-45mm
Surface type:Environmentally friendly E1 finish lacquering with high scratch resistance. Based on water soluble lacquers
Customers' size and color are welcomed.
INSTRUCTIONS FOR USE :
NOVA melamine edges can be processed with all the conventional hot-melt adhesives in the edge banding machine:
Room and materials temperature : 18-20¡æ
Application amount for adhesive : 150-200
Processing temperature : > 180-220¡æ
Feed rate : 20-80 m/min
The feed speed should be at least 20m/min so that the adhesive does not cool down prematurely and is still fluid enough to wet the entire surface of the edge strip. The above processing parameters are intended to serve as a guideline only. Due to the varying nature of carrier materials and hot-melt glues, we advise the customer to carry out his own trials to optimize individual working parameters.
HAZARDOUS INFORMATIONS:
The NOVA melamine edge does not contain any materials hazardous to health that can be emitted during processing or storage.
STORAGE:
The melamine edges will be best preserved in dry and moderate temperature storage areas. Under these conditions the edges can be conserved for at least 6 months without changing its properties.